Ellington CMS Marketplace New Feature: Marketplace Favorites
Mediaphormedia is pleased to announce a new Marketplace feature: Marketplace Favorites. Marketplace Favorites enhances the users experience by allowing them to "bookmark" or "favorite" objects directly on the site. Once they "favorite" a Coupon, Photo, Product or Businesses, the objects will be listed on the users Favorite page in their use profile. The user can navigate quickly to a list of their favorite restaurants or other businesses on your site.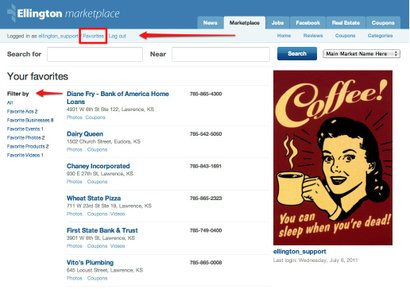 To see the full documentation for Marketplace Favorites, click here.